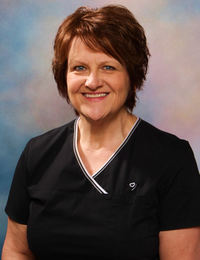 Dr Corrigan graduated from Canadian Memorial Chiropractic College in Toronto in 1998 and has been offering manual and Activator chiropractic care to the residents of Swift Current and area since joining New Family Chiropractic and Massage Therapy Centre in 2003.
As a life time resident of Saskatchewan she understands the needs of the diverse population of this province. Dr Corrigan's chiropractic education and background in the health sciences make her well suited to uphold the total wellness goals of New Family Chiropractic in preserving and supporting your health. She feels that now is the perfect time for Chiropractic to be incorporated into everyone's self-care strategies for best health.
Dr Corrigan appreciates the numerous opportunities Swift Current offers for recreation and volunteering. She enjoys busy family times with her husband, Ken, her daughter, 3 step-sons and 2 grandchildren. She is so pleased to make Swift Current her home and is very proud of the way the city has grown over the years she has resided here. Dr Corrigan's areas of Professional Interest Include: Family care, Senior Care, Acute Injury, Chronic Pain, Pregnancy and Wellness management strategies Life is Great! Chiropractic makes it Better! Book an appointment with her today.
Initial Assessment
$80.00 NEW PATIENTS and OVER A YEAR PATIENTS.
Subsequent/Return Visit
$50.00 Book this appointment if you have have had Chiropractic care at our clinic with in the last 11 months.