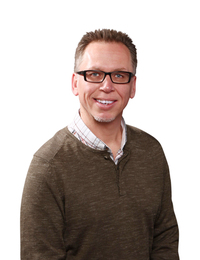 Dr. Travis New has a passion for Chiropractic and promotes an active approach to Health care. He strongly believes the Optimal Health means having a Nervous System free of Interference, continuous personal development, having an active role in your own health, and eating, moving and thinking well.
Dr. News treatment techniques includes IMPULSE. The patented and FDA registered IMPULSE devise was specifically created to deliver gentle and precise chiropractic adjustments to the joints of the spine and extremities to relieve pain and restore function. He is also trained in Activator, Thompson DROPS, Diversified, Gonstead and the basic Palmer package.
Dr. New earned his Bachelor of Arts and Science degree, majoring in Psychology, from the University of Regina, and then furthered his education with another two years at the University of Saskatchewan. Dr New graduated with Summa Cum Laude honours from Palmer College of Chiropractic in 1995.
Dr. New is very involved with the his community. He stays active coaching a variety of sports and has served his community by sitting on various boards.
Initial Assessment
$80.00 NEW PATIENTS and OVER A YEAR PATIENTS.
Subsequent/Return Visit
$50.00 Book this appointment if you have have had Chiropractic care at our clinic with in the last 11 months.